Late April & May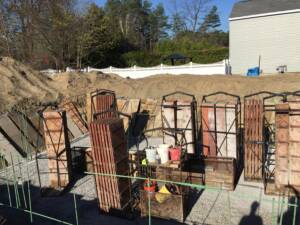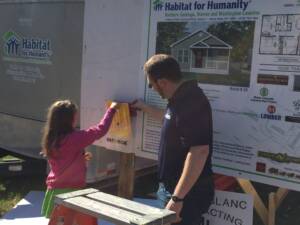 In late April and early May, our site contractor, Mike LeBlanc, and our concrete partner, Gallup Concrete, collaborated to excavate the site then pour the foundation.  We thank Lou for the generous labor donation by him and his crew!
May 9
Our first work day with volunteers was met with excellent weather and great enthusiasm.  We completed the entire main floor structure and plywood along with the basement stairs by 2pm.  Special thanks to Dean Column for donation of the beam support columns.  Special thanks to Boise-Cascade for donation of the floor structure.
May 16
Walls, walls, walls.  Skilled volunteers working alongside people new to building homes makes for a great way to spend a Saturday.  Today the exterior walls were constructed, stood, and braced.
During the week and even on Memorial Day weekend, additional work with walls, bracing and porch framing prepared us for truss day.
May 30
Thanks to the generous donation by Mark of AllMark Tree & Crane Service, the trusses were set using a crane and some skilled help from Britney's family and our partner builders, Sipe N Sons Contracting.  After the trusses were up and braced, roof sheathing began.
June 6
Thanks to a small army of volunteers, roof sheathing was completed, porch work continued, the sump pump was plumbed and required framing connectors were installed.
June 13
We had 22 excited volunteers, including some regular faces from the community, family members of Britney and a few new faces including 4 employees from Glens Falls National Bank and 2 residents located near one of our Saratoga lots, Chris and Carrie. Today's projects were installing all of the windows with a crew setting the windows, second team hammering in all of the nails and a third team weather stripping / waterproofing the windows. Along with windows, all of the soffits were installed and most of 1 side of the house was sided with a professional crew showing up Monday installing the shingles. The best part of the day was the positive, happy energy that Britney, Brynn and their family bring to the project. We are looking forward to many more productive building days in the coming months with some interior work starting soon.
June 20:
Now that the roof is on and the framing inspection has been completed, volunteers turned to the house's exterior.  Siding was hung and doors were installed.  Electrical wiring was completed earlier this week, so insulation was started in the attic.  Work also began the front sidewalk with volunteers preparing the area with careful shovel work.  Thanks to the 23 members of Grace Fellowship of Saratoga who contributed 155 hours and lunch for the 32 workers on site.